ITF Tournament in Chile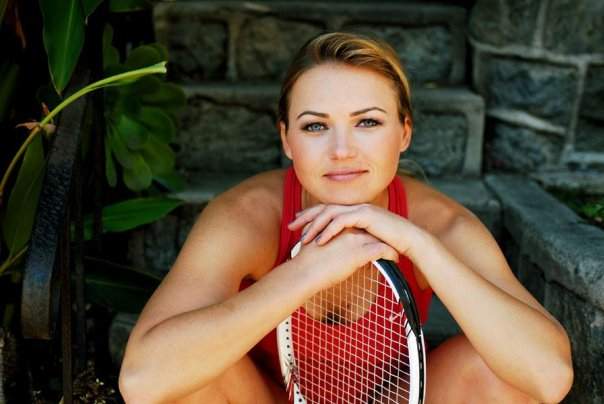 15 years after the end of the career Ukrainian tennis player Angelina Zdorovitskaya-Svitolina, Svitolina's Elina step sister returned to the court. She will play in the main draw of the ITF Tournament with a prize money of 15 000 USD, which will be held in Santiago (Chile).
At one time, Angelina was the first racket of Ukraine and was in the top 300 of the Women's Tennis Association, before parting with a professional tennis in 2000. She trained under the direction of Svetlana Medvedeva and Yurii Cherepov (Andrei Medvedev mom and step dad)!
 "As a young woman living in Kiev with dreams of coming to America, I applied for and was awarded a full tennis scholarship at Loyola Marymount University in Los Angeles at age 20. Overcoming many challenges in my efforts to come to the United States, I arrived in 2000 to join the LMU tennis team and achieved number 12 ranking in the U.S. in doubles, qualifying the LMU team to go to NCAA for the first time in LMU's history. As a team we won the WCC, beating Pepperdine University in the finals – another first for LMU"-says Angelina Zdorovytska-Svitolina
Today, Angelina Zdorovitskaya returned to an active performances and had her first victories! At the tournament ITF $ 15,000 in Santiago, Angelina confidently overcame the barrier of qualification, and in the first round will play against Yasmine Guimaraes of Brazil.
Despite the fact that Angelina lives for 15 years in Los Angeles, she is a Ukrainian and represents our country on the world sports arena!
According to Lina, she returned to the professional tour only because of her husband. "Now, what prompted me to try to return to professional sport, it is of course my husband Julian Svitolin (the brother of the first racket of the Ukrainian Elina Svitolina). His attitude to me, approach to life – inspire and give me strength to move forward and win .. He works with me at the moment and believes in me. His faith gives a boost of energy for new achievements. It is rare to find such a coach as Julian, who is so carefully, honestly and with such passion treats his students and to his professional work. As we know, he coached Elina from the age of  9-13 years, and gave her a base and elements that help in her career to this day … Julian coaches a lot of young and talented students at the moment, which serves high hopes for achieving success in the professional sport "- said tennis player.
The young couple successfully operating tennis academy "SvitolinAcademy.com". The Academy is located in the most prestigious and favorable to practice area of Los Angeles – Beverly Hills. Players of all levels and from all over the world who want to improve their game and achieve success in their own personal ways come there.
At the same time, Svitolin's created a platform for students from Ukraine and European countries who have the desire to get American education and receive scholarships.
Here's a story of Ukrainian Kimiko Date Krumm. We can only wish good luck to a great sports family Svitolin.
Author: Svetlana Popudko